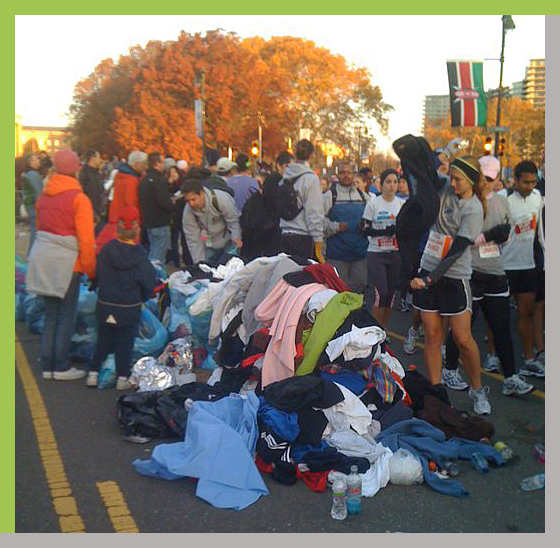 In 2007, Madeline Resnic and her father, Michael, attended their first marathon, not as runners, but as spectators in Philadelphia, their hometown. They were immediately captivated by the energy and spirit that comes along with thousands of people participating and watching a major urban race. Although the start of the race was exciting, Madeline did not just see the runners, she saw something unusual. As the runners began exiting the start corrals, they started shedding their excess layers of clothing; sweatshirts, sweatpants, scarfs, gloves, hats, (you name it!). What happened next was alarming; these gently used items were being swept away by sanitation workers. As Madeline saw the clothing being discarded, she asked her father a simple question…"Why?" That same day,clothes-pin.org (Clothes for People in Need) was born. The pair ran home, grabbed a trash bag and picked up around 50 pieces of clothing. They then went to a local laundromat, washed the clothes, and donated them to a local shelter.
Many years later while still not runners, they are anything but spectators! Since that cold November day clothes-pin has grown tremendously. clothes-pin is involved with approximately 15 events each year on both the east and west coast. To date clothes-pin has collected over 250,000 pieces of clothing and have donated them to men's, women's, family, veteran and teen shelters in the city were they have been collected. clothes-pin expanded to collect running sneakers at race expos prior to the race, typically during the Health and Fitness Events, preceding major marathons. In addition, clothes-pin conducts a range of drives in corporate and school settings, as well as distributes "seconds" from major clothing manufactures. clothes-pin's efforts are recognized by the Council of Responsible Sport and assist large scale events in the pursuit of sustainable certification.
This website is your go to for all about clothes-pin and our upcoming events. If you are a runner, thank you for your contribution! If you are not, sign up as a volunteer for an event near you or contact us to create a special initiative in your community! Thank you!